Our surf lessons are working in two different ways : The offseason and the high season 
The surf lessons are planned on the Messanges beach located nearby the surf camp, you will join the surf instructors with your own means of transport (car, electric fatbike or bike). Schedules are set according to the tides, which can be changed depending on the weather.
The ocean is more capricious in this period, all the team will be ready to make you surf on the best days of conditions, and we won't hesitate to bring you in Basq Country if the forecast is too difficult on or home spot.
Though, the sessions will be set following the Ocean humor.
The Nature Surf Camp team might propose you activities such as Stanp Up Paddle, in a way to replace a lesson which could not be done.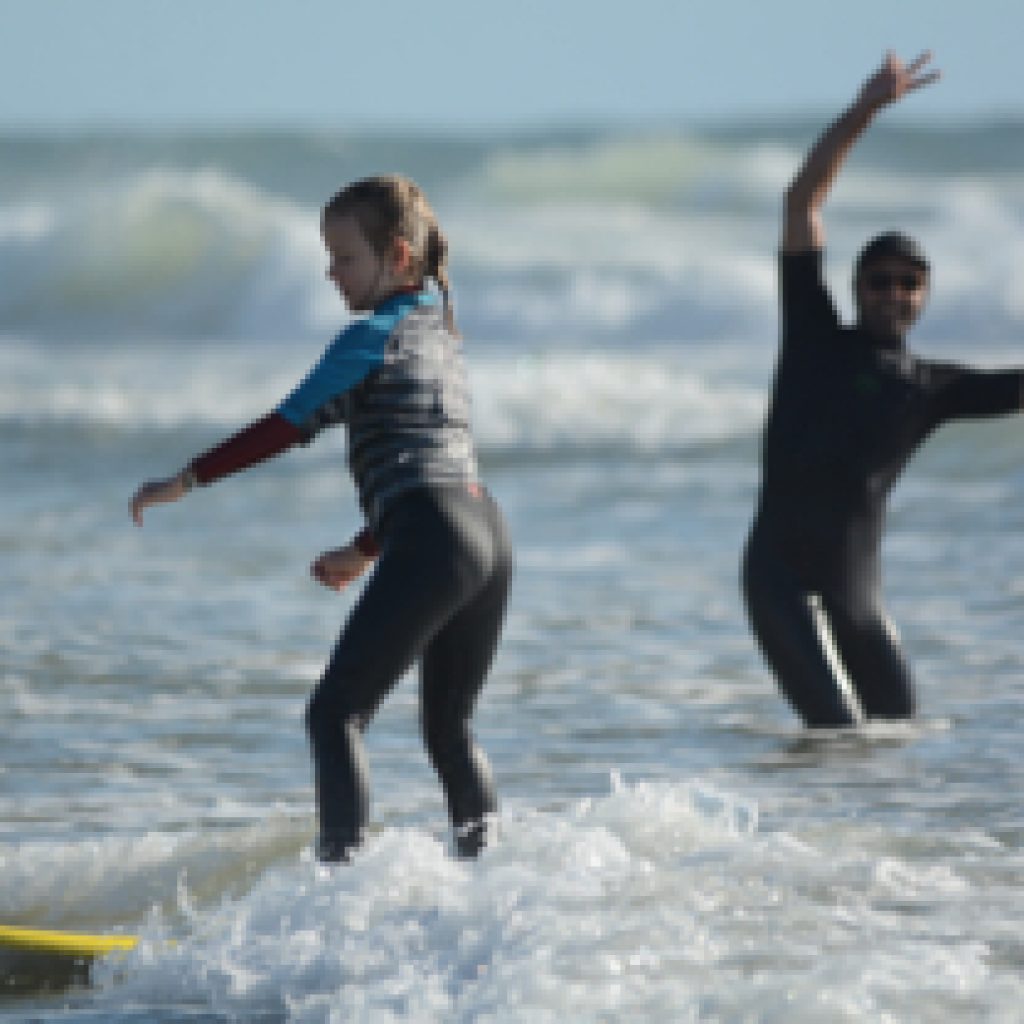 During the summer season, the Ocean offers quiet conditions and provides a safe and non-stop lesson on the Landes Coast.
Our instructors will be fully available for you and will adapt the lessons according to the weather and your surf level.
The lessons will be organized on a "wild beach" where there is no other school, so that a remoteness feeling is fully guaranteed as it would be in offseason, in an exceptional and 100% nature background. You'll be joining the instructors in electric fatbike passing through the Landes forest, a secret must-to-do over here!
Surf lessons according your level
Les horaires sont prévus en fonction des marées, modifiables suivant la météo.
Vous pouvez continuer à surfer seul et garder le matériel après les cours.
Les cours de surf se feront sur la plage principale ou dans la forêt en fonction de la saison ou de la formule choisie.
 Pour les cours de surf, quelle que soit la formule
Nous formons 3 groupes de niveau avec 8 personnes maximum :
Pour les cours de surf, quelle que soit la formule
Nous formons 3 groupes de niveau avec 8 personnes maximum :
You will learn to stand up at low tide for the utmost of security. Then you will discover the ocean, we'll teach you how to improve in this background with pedagogy and explications of "baines", currents, and sand benches with notions of weather forecast. The main goal is to reach a certain kind of autonomy taking pleasure, respecting each other rhythm.
For those who already have a surf experience and who have notions of standing up and who like to give up foam and take place on the blue waves, performing achieved skills and become a confirmed surfer. Video analyses and pedagogy according to the surf conditions and each other wishes.
At half tide, we will find a wave really adapted to a very good kind of improvement. For those who like perform their technical and their autonomy in the ocean. An individual pedagogic follow-up is organized with for instance video analyses, muscular backup…adapted to each other level.